For some, visiting the dentist can be a daunting experience. Whether it's the smell, sounds or the tools and implements used, dental fear is a very real issue that affects many people. Luckily there is a solution - Sleep dentistry.
One of the main downsides associated with dental anxiety is the fact that it can cause people to avoid making appointments with the dentist. This can increase the risk of many different dental issues. 
If you happen to suffer with dental anxiety, sleep dentistry, also known as sedation dentistry is an excellent solution. Whether it is past experiences that have put you off returning to the dentist or a fear of healthcare professionals in general, sleep dentistry can be a great solution to return you to a healthy, bright smile comfortably and anxiety free.
What is sleep dentistry?
Sleep dentistry, also known as sedation dentistry, is designed to help people that suffer with dental anxiety, undergo a whole host of important dental procedures while being sedated. 
There are many different sedation forms and techniques which are designed to serve a multitude of purposes.
Some sedation techniques are designed to help people to relax during dental procedures, whereas others provide pain relief and even place patients to sleep. 
Whether it comes in the form of gas, an oral sedative, or even an IV, sleep dentistry can prove to be very useful.
Types of sleep dentistry
The two main types of sleep dentistry include twilight sedation and oral conscious sedation. 
Both types of sedation are perfectly natural and are completely safe and monitored to provide a positive experience and a relaxing environment for the patient suffering with dental anxiety. 
Here's a quick look at the main differences between the two: 
Twilight sedation
Twilight sedation, also known as twilight anaesthesia, is a sedation technique whereby a mild and controlled dose of sedative is applied to the patient in order to induce what is known as anxiolysis (anxiety relief). 

With twilight sedation, the patient will be sedated, but still awake and fully conscious. This form of sedation gets its name from the fact that the patient is placed into a "twilight" state where they are relaxed and sleepy, but still able to listen to the dentist and follow instructions. 
Oral conscious sedation 
Oral conscious sedation, as the name implies, is a form of sedation whereby an individual will consume an oral sedative, or a combination of oral sedatives to cause the patient to feel sleepy and relaxed.

In this type of sleep dentistry, the patient is conscious and awake, although they will feel drowsy and sleepy. They may also struggle to stay awake and keep their eyes open. 
Our trained dentists at Tuart Hill Dental in Perth use a selection of sedatives and sedation techniques to help people overcome dental anxiety, regardless of how it manifests itself. 
Who should have sleep dentistry?
Sleep dentistry is designed mainly for people who struggle with dental fear or anxiety and who struggle mentally with visits to the dentist. Anyone who does not suffer from a health condition that prohibits sleep dentistry can undergo sleep dentistry.

At Tuart Hill Dental, we provide sleep dentistry services to people of all ages, genders, shapes, and sizes. If the patient in question suffers with fear and/or anxiety surrounding a visit to the dentist, sleep dentistry can, and will help.
What are the main benefits of sleep dentistry?
The main benefits that sleep dentistry can provide include:
Pain relief
Anxiety control
Reduce negative emotions
Non-invasive
Speed up recovery times
Safe and controlled 
What to expect
On your first appointment one of the dentists at Tuart Hill Dental will examine exactly what work you need and if you are a good candidate for sleep dentistry. From there a trained sedationist medical practitioner is organised for your next appointment where you will be put to sleep and the required dental procedures are performed.
Sedation provides many of the advantages of a general anaesthetic without all of the complications. Patients are able to go home the same day having had their dental treatment performed in a relaxed environment.
Sleep dentistry Perth - Book an appointment
Tuart Hill Dental offer a number of sedation options, making them ideal for those in need of dental work but who are afflicted with dental anxiety. 

If you suffer from dental anxiety, and you need dental work done, talk to the friendly team at Tuart Hill Dental, and they'll have you sorted in no time at all.
To learn more about your sleep dentistry options, book an appointment online or call us on 9349 3006.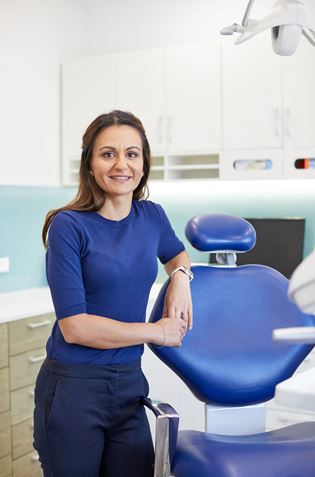 Sleep dentistry FAQs
How much will it cost?
It will depend on your procedure and the type of sedation, but typically sleep dentistry Perth procedures can cost between $850 and $1600. 
Is sleep dentistry covered by insurance? 
No. Unless special circumstances are present, most insurance company policies will not cover sleep dentistry costs.
Can adults be put to sleep for dental work? 
Yes. While most sedation techniques used in sleep dentistry will have you awake, you can be put to sleep in some instances too.
A preventative approach to dental decay, gum disease, trauma and other conditions has been established as an important treatment modality in modern dentistry.
Discover more

Preventive dental care
Root canal treatment is a procedure that involves removing inflamed or infected tissue of the nerve (also known as a pulp) from the inside of a tooth to allow a tooth that was causing pain to be saved.
Discover more

Root canal treatment
Accepted health funds / Medicare schemes