A custom-made mouthguard should be considered an essential part of any sports kit for both adults and children who participate in any contact sport or activity where there is a risk of facial injury.
At Tuart Hill Dental, we offer gap-free mouthguards for anyone that has ancillary cover attached to their private health insurer.
Get your custom-fitted mouthguard
Do you ever find yourself grinding your teeth at night as you sleep, or perhaps suffering sporting injuries which affect the teeth and mouth area? If so, it could be that you're in need of a custom mouth guard. 
Bruxism for example, is a condition whereby people clench their jaw and grind their teeth, resulting in damage to the teeth as well as a great deal of pain and discomfort in the mouth and jaw. If you suffer from Bruxism, custom mouthguards Perth can help. 
It doesn't matter whether you grind your teeth at night, or if you require a custom mouthguard for sporting purposes, here at Tuart Hill Dental in Perth, if you have ancillary cover attached to your private health insurance policy, we offer gap-free custom mouthguards for adults and children who take part of any physical contact sport or activity with a heightened risk of facial injury.
The importance of a custom-fitted mouthguard
The Australian Dental association strongly recommends investing in a custom-fitted mouthguard from your dentist as they provide maximum protection.
Mouthguards for children are vitally important for the protection of gums, jaws and teeth that are still developing.
Mouthguards do more than protect your teeth from being knocked out, chipped or fractured by a heavy blow; they protect your gum tissue, tongue, lips, cheeks and jawbones. A professionally fitted mouthguard can also help prevent sustaining a concussion.
At Tuart Hill Dental our dentists can customise a mouthguard for you or your children in a variety of colours efficiently and cost effectively. A well-fitted mouthguard will allow you to speak and breathe easier than an over the counter "boil and bite" one that offers only minimal protection to your mouth and smile.
For more information about the importance of wearing a mouthguard for either you or your child when participating in sporting activities please visit the Australian Dental Association website.
What is a mouthguard?
A mouthguard is basically a specially designed covering which is designed to be worn over the teeth in order to protect them from damage and injury.
Sometimes people will wear mouthguards in their sleep if they suffer with Bruxism, whereas in other instances people will wear them to protect the teeth and mouth during sporting activities.
Different types of mouthguards
Some of the most common types of mouthguards currently available include:
Stock mouthguards
Stock mouthguards are already pre-formed and are designed to be worn as they are.
Typically you can purchase these at sporting goods stores, and while they do offer basic protection for the teeth and gums, as they are not customized for each individual that wears them, some fits are not the best.
Custom fit mouthguards
Up next we have custom fit mouthguards.
These are mouthguards which have to be custom made specifically for each individual person. Here, impressions of your teeth will be taken by your dentist and sent off to the dental lab where a custom mould will be made to create your custom mouthguards.
These mouthguards guarantee the best possible fit because they're customized from your teeth and jaw. The only downside is that, due to the work and materials required, they are a fair amount more expensive.
Boil and bite mouthguards
Finally, we have boil and bite mouthguards.
With boil and bite mouthguards, these devices are made from thermoplastic material which you will place into hot water in order for them to soften. You will then place it into your mouth and as it is now softer, it can be moulded around your teeth where it will harden as it cools.
Benefits of custom-fitted mouthguards Perth
There are many benefits of using custom mouthguards Tuart Hill products, particularly if you take part in sports or physical activity where there is a risk of damage to the teeth.
These mouthguards not only help to protect the teeth and prevent teeth from being chipped, damaged, or even knocked out, they also help to protect the gums and the mouth in general.
Here at Tuart Hill, we can offer you a selection of custom mouthguards in a variety of colours and designs that are exclusively for you, and you only.
Key benefits of custom mouthguards Perth include:
Protect the teeth
Protect the gums, tongue, and cheeks
Improve your sleeping pattern
Less pain and discomfort
Custom colours, fits, and designs available
Easy-to-use
The procedure for new custom mouthguards
If you are in need of new custom mouthguards, it's important to understand the processes involved in creating these handy little products.
Here's a step-by-step guide to the procedure required for creating new custom mouthguards:
Visit your dentist
Your dentist will then take moulds of your teeth
The impression of your teeth will then be sent to the dental lab
Using the mould impression of your teeth, the dental lab technicians will fabricate a custom mouthguard
Once complete, the mouthguard will be shipped from the lab to your dentist, who will then give it to you, along with help and advice on how to wear it and care for it
How to care for your mouthguard
Once you have your new custom mouthguards Tuart Hill products, it's important to care for and look after the mouthguard to keep it clean and sterile.
Here are some tips for cleaning and caring for your custom mouthguard:
Use toothpaste
A simple way to clean your mouthguard at home is to use a soft-bristled, non-abrasive toothbrush.
Simply add a small amount of toothpaste to a clean toothbrush and gently brush the mouthguard as you would with your teeth, and rinse off with clean water when finished.
Soap and water
For killing bacteria, hot soapy water is one of the best solutions you could wish for.
To clean your mouthguard, use an alcohol-free soap to avoid damaging the material, add a small amount and brush the mouthguard with a clean toothbrush, and submerge in hot soapy water.
Rinse with clean water to remove any soap and leave to dry naturally.
Mouthwash
Mouthwash kills bacteria and is therefore ideal for cleaning a mouthguard.
Simply add a capful of mouthwash to a fresh glass of water, submerge the mouthguard in the glass for at least 30 minutes, remove, and rinse with clean water and leave to dry naturally.
Custom mouthguards FAQs
How long does a mouthguard last?
If you look after your mouthguard, it could easily last upwards of 3 – 5 years.
What are the three types of mouthguards?
The three types of mouthguards currently available are: boil and bite, stock, and custom-fit. 
How should a mouthguard feel?
A mouthguard should feel tight, without being painful or restrictive. It should stay firmly over your teeth, without causing any pain or discomfort. 
Can you sleep with a mouthguard?
Yes. Mouthguards used to treat and prevent Bruxism can, and should, be worn as you sleep. 
Book your free impression appointment now!
If you're in need of a custom mouthguard, don't put it off any longer, call us today on 9349 3006 or contact us online to book your free custom mouthguards Tuart Hill impression appointment now! Trust us, your teeth will thank you for it.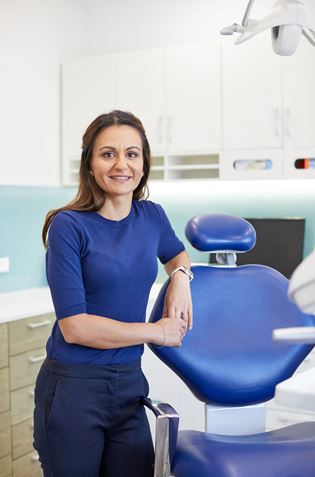 If you're in need of a custom mouthguard, don't put it off any longer, call us today on 9349 3006 or contact us online.
Contact us
If you're looking for a children's dentist in Perth consult Tuart Hill Dental. Our professional and caring team will help and direct your children through their three main stages of dental development.
Discover more

Children's dentistry
A preventative approach to dental decay, gum disease, trauma and other conditions has been established as an important treatment modality in modern dentistry.
Discover more

Preventive dental care
At Tuart Hill Dental we will strive to improve your oral health by offering a wide range of dental services that will give you the best possible outcome at the lowest price possible.
Discover more

General dentistry
Accepted health funds / Medicare schemes