Restore bite & replace lost teeth with dental implants from Perth's leading dental implant clinic
Are you looking for dental implants in Perth, WA? Dental implants are an increasingly popular option for people who are missing teeth, and it's easy to see why.

When compared to endodontic (root canal) treatment, conventional dentures or even tooth bonded bridges, dental implants outlast the other options, are much more comfortable, look and feel like your own teeth, and need no more maintenance than what you already provide for your own teeth.

Read on to learn more about dental implants or schedule a free consultation with one of our friendly dentists to find out about your various dental implant options based on your specific situation.
What are dental implants?
Dental implants are a revolutionary way of replacing teeth, consisting of small titanium 'screws' that are inserted into your jawbone via a minimally invasive surgical procedure. Dental implants can be used to replace a single tooth, multiple teeth, or all of your teeth, depending on your specific needs.

As you may be aware, each of our natural teeth consists of a crown (the portion that's used when eating) and a root (the part that is not visible and connects the tooth to the jaw bone. A dental implant closely resembles these natural components in order to provide the most natural and comfortable outcome.
Each implant is made up of a crown (the top section of the implant tooth), an implant fixture consisting of a small titanium screw which connects the crown to the jaw and the abutment, which connects to the crown. 

This material used in each dental implant is highly biocompatible with your natural jawbone material, and over a period of months these titanium dental implants are fully integrated into your jaw, forming a permanently solid foundation for prosthetic tooth replacements such as crowns.
Advantages of dental implants
There are many advantages to dental implants at our Perth dental implant centre including:
An effective solution to tooth loss
Replace your missing tooth or teeth with beautiful, all-porcelain crowns using the latest materials and techniques
Restore your bite by preventing your natural teeth from moving from its original position
Unlike a bridge procedure, adjacent teeth do not have to be shaved down
They help retain bone structure and gum tissue
Implants are very durable and will last many years. With good care, most implants can last a lifetime.
Dental implants eliminate the embarrassing inconvenience of removing your dentures, as well as the need for messy

 adhesives to keep your dentures in place

.
Dental implants are a safe way of replacing missing teeth. Contact Tuart Hill Dental to talk with a dentist about dental implants at Tuart Hill Dental in Perth, Western Australia.
Types of dental implants
There are a number of different types of dental implant treatments based on your specific situation. These include:
Individual implants
All on 4 dental implants
Whole mouth dental implants
Individual implants
If you have a single tooth missing, a tooth implant will allow for the replacement of that tooth. The procedure is usually successful in restoring your natural teeth and bite to their former state with only one exception—the remaining teeth may need some reshaping or adjustments to accommodate the space left by the new dental implant.
All-on-4 dental implants
This treatment focuses on replacing all of your upper or lower front four teeth at once using three dental implants strategically placed in your jawbone after it's been surgically altered to provide room for them. 
Whole mouth dental implants
Dental implants are used to replace all of your natural teeth in this procedure. Your orthodontist will assist you in determining the number of implants required to replace all of your teeth.
Who can benefit from dental implants?
Almost anyone healthy enough to undergo a routine dental extraction can be considered for a dental implant. Patients should have healthy gums and enough bone to hold the dental implant. They also must be committed to good oral hygiene and regular dental visits.
Heavy smokers, people suffering from uncontrolled chronic disorders such as diabetes need to be assessed on an individual basis. If you are considering implants, talk to our dentists at Tuart Hill Dental in Perth to see if they are right for you.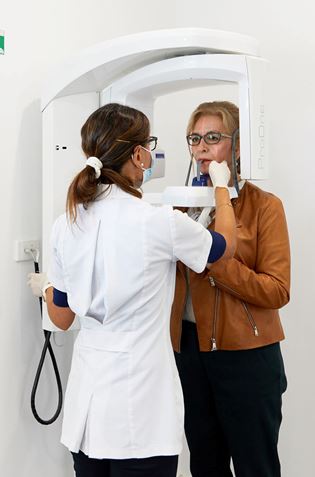 Our dental implant process
Stage 1: Personalised treatment plan
Before an implant can be placed a personalised treatment plan needs to be drawn up based on your specific needs. This typically involves an oral examination in which your dentist will take any necessary x-rays, impressions, scans or photos.

Our experienced dentists will walk you through your proposed treatment plan in detail to ensure you understand the risks and treatment involved, and be available to answer any questions you may have.
Stage 2: Implant placement (surgical phase)
For the initial (surgical) phase of the implant, we will refer you to a surgeon to carry this out. This team approach provides coordinated care based on the implant option that is best for you.

The surgeon will then place the tooth root implant, which is a small post made of titanium, into the bone socket of the missing tooth. As the jawbone heals, it grows around the implanted metal screw in a process known as osseointegration. The healing process can take anywhere from 6 to 12 weeks.
Stage 3: Crown placement
At this stage you will return to our dental implant clinic for the final part of your treatment in which your new dental implant crown will be fitted.

To make your new tooth or teeth, we take impressions of your teeth, which are sent to our highly experienced dental technicians who then fabricate a replacement tooth, called a crown. This is then attached to the abutment.

The crown is made to match the colour of your new teeth to your natural teeth. Because the implant is secured within the jawbone, the replacement teeth look, feel, and function just like your own natural teeth. 
Stage 4: Long-term maintenance
Dental implants require the same care as real teeth, including brushing, flossing, and regular dental check-ups. We recommend scheduling a six-month exam and hygiene session to keep the tissues around your teeth implants healthy.
What is the recovery time for dental implants?
A dental implant usually takes about one to three months for the healing process to be complete. This time varies depending on factors such as your age and health conditions, what type of procedure was done, how many teeth were involved in the surgery and if any complications occurred during or after the surgery.

If you do not have any other medical problems that could complicate things like diabetes or high blood pressure then it is likely that healing will take approximately one month but still talk with your dentist about this before scheduling a specific date just in case.
How long do dental implants last?
For decades, tooth implants have been used successfully. Your implants should last a long period, anywhere from 25 years to a lifetime.
Dental implants are made of titanium, which is a biocompatible material that is well tolerated by the body and provides a strong and stable basis for replacement teeth. By fusing, or attaching itself to the implant, your normal bone secures it in place.

This process is known as osseointegration and enables teeth that have been replaced with implants the stability and strength to support replacement teeth and function just like normal teeth.
What is the age limit for dental implants?
Many individuals believe that age is the most important consideration in deciding whether or not to have implants. In actuality, though, ageing is not a problem. As long as a person is healthy and has enough jawbones to support the implants, there is no maximum age limit for dental implants.

An 80-year-old with good health may be a better candidate for implants than a 40-year-old who is an excessive smoker or has uncontrolled diabetes.
Dental implants from Tuart Hill Dental in Perth are the best option for restoring missing teeth , no matter your age.
How much do dental implants cost in Perth?
Dental implants are more expensive than dental bridge procedures, but the costs can be offset by long-term dental implant cost savings over the lifetime of your dental implant. In other words, dental implant costs may seem high upfront, but they're more economical in the long term since dental implants last longer and require less maintenance than dental bridge options.
Dental implants from at our Perth dental clinic in Tuart Hill start from $3,900 depending on a number of factors including your type of dental coverage, how many implants are needed, and the type of dental implant you choose.

Your dentist will discuss all pricing with you before moving forward with the procedure.
Contact us today to discuss your dental implant options, the amount of time your treatment is likely to need and the overall cost.
Book your free dental implant consultation
Tuart Hill Dental offers high quality dental implant treatment at affordable prices. Call our friendly team on 9349 3006 or contact us online to schedule a free consultation to discuss your dental implant options.

Our experienced Perth dentists are available to answer any questions you have about the procedure, costs involved and payment options available.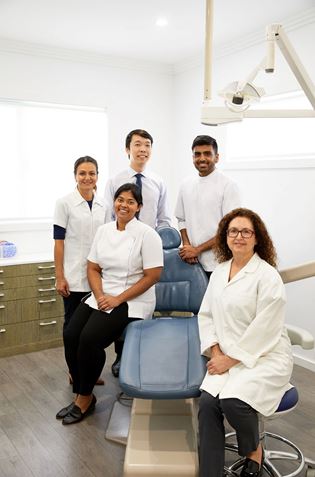 Contact us today to discuss your dental implant options, the amount of time your treatment is likely to need and the overall cost.
Contact us
Do you have a dental emergency or require after hours dental treatment?
Discover more
At Tuart Hill Dental we will strive to improve your oral health by offering a wide range of dental services that will give you the best possible outcome at the lowest price possible.
Discover more

General dentistry
A preventative approach to dental decay, gum disease, trauma and other conditions has been established as an important treatment modality in modern dentistry.
Discover more

Preventive dental care
Accepted health funds / Medicare schemes