Are your teeth making you feel self-conscious and down on yourself? If so, then don't worry because you're most certainly not alone.
If you're dealing with damaged, broken, or missing teeth, no doubt this can make you feel self-conscious about your smile. The good news however, is the fact that dentists can perform a wide range of procedures to rectify the issue, particularly in the form of dental bridges.
The experienced dentists at Tuart Hill Dental in Perth can fit bridges in a number of ways, helping to give you a bright and vibrant smile in no time at all.
If you're feeling self-conscious about a missing tooth, or missing teeth, here's a better look at dental bridges and how they can help.
What are dental bridges?
Starting the ball rolling today, we're going to be looking at what dental bridges are.
Dental bridges are perfect for people with missing teeth, as they are used by dentists to close, or to 'bridge' the gaps in the mouth.
Dental bridges may sound complicated, but in reality they are simply false teeth used to bridge the gaps caused by missing teeth.
Dental bridges from our dental clinic in Perth are fitted by bonding a false tooth to two natural teeth located on either side of the gap.
Types of dental bridges
Like most things in the dental industry nowadays, there are a wide variety of different dental bridges offered to members of the public, with each one serving a different purpose and offering its own unique pros and cons.
Popular types of dental bridge include:
Traditional bridges
We'll start off by keeping things traditional and looking at some of the most common types of dental bridge.
Traditional bridges consist of one or more 'Pontic' (false) teeth which are held in place by two natural teeth known as abutment teeth. Abutment teeth are natural teeth which have been fitted with a dental crown to help improve the aesthetics and hold the false tooth/teeth in place.
These bridges are typically made from porcelain or ceramic, and then fused to metal before being fitted.
Cantilever bridges
Cantilever bridges are very similar to traditional bridges, in that they are attached to an abutment tooth, but just on one side, rather than both, like traditional bridges.
In the event of natural teeth only being found on one side of a gap, cantilever bridges are used in order to help secure a bridge firmly in place.
Resin-Bonded bridges
Finally, we have resin-bonded bridges, also known as Maryland bridges.
If you're dealing with missing teeth located at the front of the mouth, resin-bonded bridges are perfect.
Here, these bridges will use porcelain or metal bands to bind pontic teeth to the back of natural adjacent teeth.
One of the benefits of resin-bonded bridges is the fact that they don't require adjacent teeth to be stripped of enamel before they're bonded together.
A major downside to these bridges however, is the fact that they're not as durable as traditional bridges.
What are the benefits of dental bridges?
There are numerous benefits of dental bridges to be enjoyed, and while we don't have the time to list every benefit of dental bridges, we will look at some of the most prominent.
Here are some of the main benefits of dental bridges Perth.
Chew your food better
Despite the fact that there are many aesthetic benefits of dental bridges to be enjoyed, it turns out that they're also very practical too.
We use our teeth to chew our food to assist with swallowing, digesting, and nutrient absorption rates. Without the ability to properly chew our food, the digestive process is interrupted.
Dental bridges help to replace missing teeth in the mouth, which in turn helps to improve chewing.
Improve your smile
Let's face it, if you're missing a tooth, or teeth, this can leave you feeling self-conscious, and it can harm the aesthetic appeal of your smile.
Dental bridges Tuart Hill help to restore a person's natural smile and give them a smile to be proud of.
Improve self-esteem
If you are suffering with poor self-esteem caused by missing teeth, having dental bridges fitted is the perfect way to help you feel confident and feel good about yourself once more.
Help you to speak clearer
If you are missing a few teeth in your mouth, you may struggle to pronounce certain words or letters. If this is the case, dental bridges can help.
Having dental bridges fitted can help you to form words and letters in your mouth more efficiently, thereby helping you to pronounce words and letters easier and to speak clearer.
Who can get dental bridges in Perth?
The great thing about dental bridges is the fact that they're suitable for almost everybody.
It doesn't matter your age, your gender, your shape, or your size, if you are missing a tooth, or teeth, and the rest of your teeth are in fairly healthy condition, you will likely be the perfect candidate for dental bridges Perth, WA.
Our dental bridge treatment process
We've looked at the basics behind dental bridges and we've looked at the different types to choose from, but what exactly does the dental bridge fitting process entail?
To begin with, your dentist will begin preparing your teeth for treatment. They will reshape them in order to ensure that the bridge fits perfectly over them to hold it firmly in place.
Up next, impressions of the teeth will be made and sent to a dental lab to serve as models for your dental bridge. The idea here is to ensure the best possible fit, while also ensuring that the colours match too.
Until your bridge is ready from the lab, your dentist will fit you with a temporary bridge.
When your new bridge is ready, you will be asked to return to the dentist, who will then fit your bridge for you, making sure to check it carefully and adjust for the perfect fit.
After your dental bridge Tuart Hill bridge has been fitted, you will need to return for follow ups to ensure that the bridge is comfortable, that it fits correctly and that the bite of the new bridge is perfect as well.
Why choose Tuart Hill Dental for your dental bridge treatment in Perth, WA?
There are numerous dental bridge Perth practices to choose from when it comes to dental bridges, so why should you choose Tuart Hill Dental?
Tuart Hill Dental have a stellar reputation in the dental industry, and the reviews and feedback from their clients speaks for itself. With dentists and dental hygienists with years of experience behind them, as well as an abundance of qualifications.
Dental bridges FAQs
How many teeth can be on a dental bridge?
Dental bridges can be used to replace anything from 1 – 4 teeth in total. 
How much does a dental bridge cost?
While prices vary, dental bridges usually cost around $3000 - $5000 for a 3 unit fixture.
Dental bridge vs implants
Both offer unique benefits, and it will depend on you personally. Your dentist will be able to advise. 
How long does it take to fit a dental bridge?
Usually the procedure will require 2 visits to the dentist, with each visit taking around 90 minutes on average. 
Is a bridge better than a denture?
Generally yes, although they do require more maintenance. 
Book an appointment
If you'd like to find out if dental bridges are right for you, give us a call today on 9349 3006 or contact us online to book an appointment.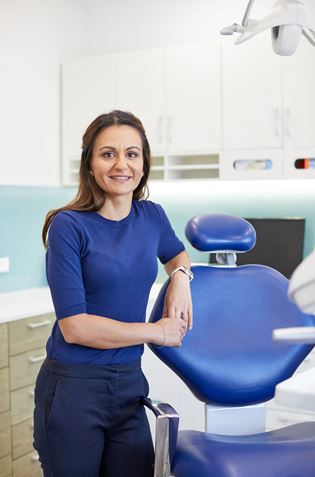 If you'd like to find out if dental bridges are right for you, give us a call today on 9349 3006 or contact us online to book an appointment.
Contact us
At Tuart Hill Dental we will strive to improve your oral health by offering a wide range of dental services that will give you the best possible outcome at the lowest price possible.
Discover more

General dentistry
If you're looking for a children's dentist in Perth consult Tuart Hill Dental. Our professional and caring team will help and direct your children through their three main stages of dental development.
Discover more

Children's dentistry
Accepted health funds / Medicare schemes