Tuart Hill Dental knows that cosmetic dental procedures can have a positive effect on how patients feel about their looks.
While many patients have opted for a smile makeover, and other cosmetic dental procedures, our dentists find that some patients don't ask about appropriate dental procedures because they are wary of the cost of cosmetic dentistry.
While it is true that extensive cosmetic dentistry procedures can cost a substantial amount, teeth whitening, porcelain veneers, and contour reshaping are simple and affordable ways to change the look of your teeth without draining your bank account.
What is cosmetic dentistry?
Whereas most dental procedures are carried out with the main intention of improving oral health and a person's overall quality of life, there are some dental procedures out there designed solely with aesthetics in mind. This is known as cosmetic dentistry.
Cosmetic dentistry is all about giving people an aesthetic and healthy-looking smile by improving the appearance of the gums, the teeth, and the mouth in general.
Popular cosmetic dentistry procedures include the following:
Teeth whitening
Dental implants
Scale and polishes
Veneers
What is a smile makeover?
When talking about cosmetic dentistry Perth, it is virtually impossible not to talk about smile makeovers.
Smile makeovers are almost solely cosmetic, in that they're all about improving a person's facial aesthetics when it comes to their smile.
Smile makeovers involve a full assessment of the teeth, gums, and mouth with the goal of giving a person straight, symmetrical and white teeth, a healthy gum to teeth ratio, and a healthy and aesthetic looking smile.
Reasons to get a smile makeover
There are plenty of reasons why people consider cosmetic dental treatments, and while we don't have the time to list each possible scenario, here are some common reasons why people get a smile makeover.
Crowded teeth
Discoloured teeth
Decayed teeth
Chipped teeth
Worn teeth
Gummy smile
Crooked teeth
Misaligned teeth
Gappy teeth
Misshaped and uneven teeth
Broken teeth
Popular cosmetic dentistry treatments
So, what sorts of procedures can be used to give your smile a makeover and improve the overall aesthetics of your teeth and your smile? It turns out, a lot.
Here are some of the more popular cosmetic dentistry Tuart Hill Dental services you can choose from: 
Teeth whitening
Teeth whitening, either performed in-chair, or at home via Zoom™ home whitening kits is a great way to make your teeth whiter and brighter without anything too drastic.
With prices for our in-chair treatments starting at $795, and our Zoom™ home-whitening kits costing just $395 less your health fund rebate, it's easy to see why these treatments are so popular.
Dental implants
Dental implants are replacement tooth roots and teeth.
With a dental implant, your dentist will insert a metal screw into your jaw and leave it for your jawbone to fuse around it and hold it in place.
Once fused in place, dental caps or crowns can be screwed onto these implants where they will serve as replacement teeth.
Veneers
Veneers are a hugely popular cosmetic dentistry procedure.
Veneers are used for aesthetic purposes as they improve the shape, colour, size, and symmetry of a patient's teeth by essentially fitting snugly over a person's existing teeth.
These thin shells, usually made from ceramic or porcelain, are bonded to the front of a person's teeth whereby they will instantly transform their smile and improve the aesthetics of their teeth and smile no end.
Meet our dentists
Here at Tuart Hill Dental, we don't just consider ourselves dentists and colleagues, we're more like family.

Dr. Hoda Foroughi is our principal dentist here at Tuart Hill Dental. She has years of experience and qualifications, gaining many of her accolades at the University of Western Australia.
Dr. Foroughi also specialises in Invisalign treatments and cosmetic dentistry and is well-known locally for her friendly and professional approach to her clients.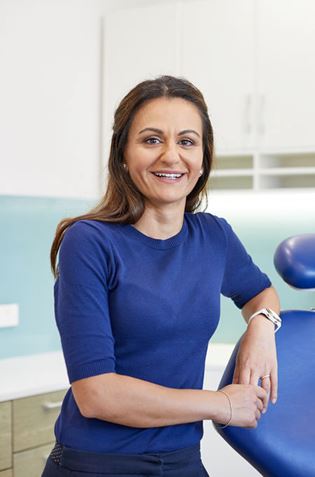 As well as Dr. Hoda, we're also home to: 
Dr. Lena Lejmanoski 
Dr. Jenna Muller 
Dr. David Qui 
Dr. Jainish Patel 
Each member of our team is a valued professional who will go the extra mile to deliver the best dental service possible, with a dazzling white smile of course. 
Why choose Tuart Hill Dental?
With so many dental practices now in the area, what sets us apart? 
Here at Tuart Hill Dental, we only use the best quality products, we provide a 5-star service, we offer flexible payment plans and packages, and our cosmetic dentistry services are amongst the most popular in Perth.
Health fund rebates
Tuart Hill Dental is a preferred provider to most of the major health funds. Depending on your fund and level of cover, you may find that up to 80% of the cost of your cosmetic dentistry procedures may be eligible for health fund rebate. We advise you to check with your health fund to determine your cover.
We are participating providers for:
Health Benefit Fund (HBF)
BUPA (otherwise known as SGIO, MBF, HBA and Mutual Community)
Book a consultation
Talk to us today about cosmetic dentistry costs associated with teeth whitening, veneers, crowns or implants. Book a consultation to find out how to restore your smile. Call the friendly team at Tuart Hill Dental on 08 9349 3006 or contact us online to book an appointment today.
Tooth loss can impact on daily life through a loss of aesthetic, phonetic and functional value of a person's mouth.
Discover more

Dentures
Accepted health funds / Medicare schemes